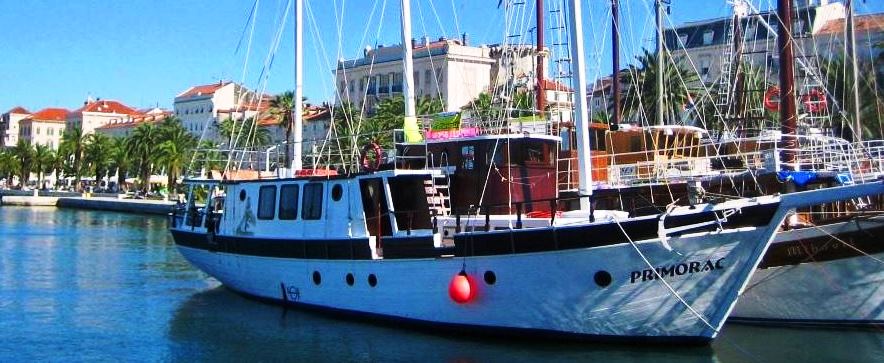 MS Primorac is a popular Category A vessel featuring all the comforts of the very best boats in its class. This quality vessel is a fully refurbished traditional style ship featuring spacious front and rear sun decks & undercover seating, attractive bar & dining areas, plus twin share cabins all with ensuite facilities.
Air-conditioning is available in the bar/lounge and the corridor between the cabins.
Cabins on MS Primorac come complete with:
* Ensuite bathroom with shower, sink, toilet & mirror
* Lockable external front door and window
* Additional port hole window (can be kept open at all times)
* European power point
* Linen & towels supplied for each person
* Twin, double or triple share cabins are available
Unbeatable Group Atmosphere
Our experienced Fanatics tour leader travels together with our passengers every day & night, 24/7. Together with the experienced local MS Primorac captain, crew & chef, our crew are dedicated to ensuring your Croatia sailing experience is a relaxed, enjoyable and hassle free week and an unbeatable group atmosphere for solo travellers and groups alike.
MS Primorac - Boat Specifications
No. of Cabins:
8
No. of passengers:
20
No. of crew:
3
Cabin Types:
Twin, double & triple
Shower/WC:
Private en-suite bathroom in all cabins
Air-conditioning:
Available in common areas of the boat
Linen:
Included free of charge
Length/Width:
21m X 6m
Cruising Speed:
12 knots