David Martin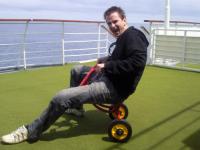 Personal info
Name:

David Martin

Gender:

N/A

Age:

N/A
About me
I work well, not hard.
Party hard until I'm not well.
Girls call me a cheeky shit, guys call me a smartarse and oldies call me a hooligan but all say I'm one of the good guys.
I'll jump off a cliff, out of a plane or off a bridge as long as the odds of surviving are better than getting hit by lightening.
Other info
Occupation:

Electrician

Interests:

Extreme sports that don't require much skill Partying Anything I haven't tried before Travel Meeting randoms Music of all types

Best Memory:

I've seen a beautiful New Zealand summer sky with white snow capped mountains in the background in a free fall skydive. I've been launched from a guys feet into a bungy jump. I got bored with the small white water rapids so I jumped out of the raft and cruised by myself. I took off in a stunt plane then let the pilot do the dangerous stuff... Even among all the crazy things I've experienced, some of my fondest memories were of the simple stuff; holidays with mates, dinner with the family, the birth of my niece and drinking goon (cheap wine from a box) with backpackers and just hanging out.

Favourite AFL Team:

David Martin is not a big AFL fan

Favourite A-League Team:

David Martin is not a big A-League fan

Favourite NRL Team:

Favourite Super 14 Team:

David Martin is not a big Super 14 fan