Cathay Pacific/HSBC Hong Kong Sevens 2018
Cathay Pacific/HSBC Hong Kong Sevens 2018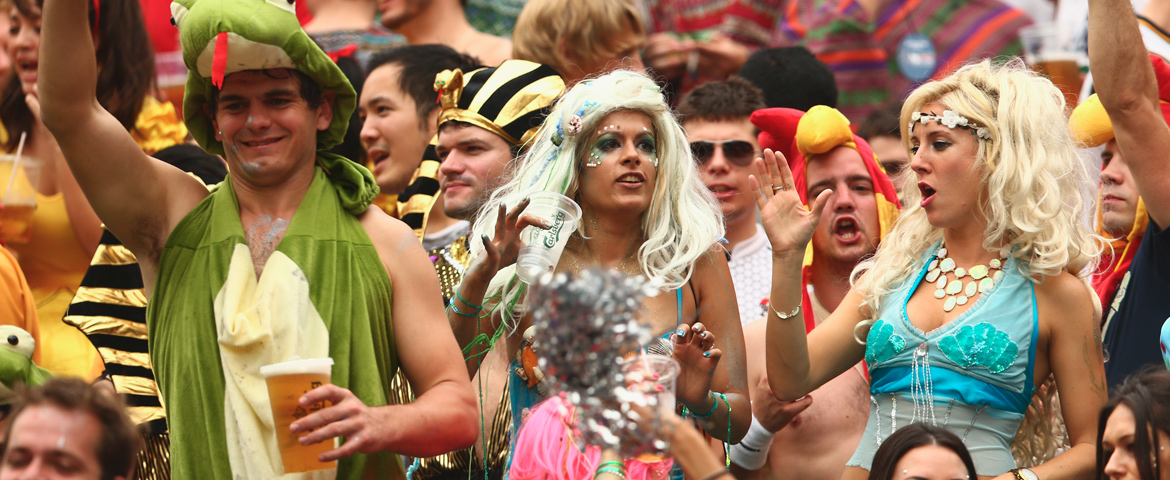 Overview
Join us at one of the most popular Sevens tournaments on the planet, the 2018 Hong Kong 7s!
Hong Kong is the ultimate destination for all Sevens fans, providing partying, shopping and of course 3 massive days of action at Hong Kong Stadium. Break out your best dress up costume and join tens of thousands of fans from all over the world enjoy this great event.
2017 was the 42nd edition of the Hong Kong 7's and saw Fiji romp to their 3rd successive Hong Kong Sevens title. The dominant Fijians proved way to powerful on Finals day romping to victory over Canada 29-12 in the Quarter-finals, Australia 33-12 in the Semi-finals and then showed all their class keeping South Africa scoreless and cruising to victory 22-0 in the Cup final. In other results from a great weekend of action, Australia defeated the USA 26-19 in the 3rd place play-off, New Zealand narrowly won the Plate Final with a 10-7 victory over Argentina, Scotland won a bruising match 21-19 against Kenya in the Bowl Final and Japan won an exciting Shield Final 28-21 against Canada.
Our Packages
Packages to the Cathay Pacific/HSBC Hong Kong Sevens 2018 include a minimum of four nights accommodation at a range of hotels located on Hong Kong Island, with a three day match ticket to the event and return airfares flying Cathay Pacific.
Twin share prices for this event start from just $2,295 per person. Extra nights and single prices are available with these packages.
Match Tickets
Match tickets are guaranteed and sourced from Cathay Pacific Airways through the 'Fly and See' packages.
Getting There
Package prices
include
flights to Hong Kong from Melbourne, Sydney, Brisbane, Perth and Adelaide. All applicable airfare taxes can be added to your booking through the online booking process. If you choose to prepay your airline taxes these will be $220 per person. If you choose to pay the taxes later, you will be invoiced one month prior to departure (tax could be between $220 - $250 depending on currency fluctuation). If you would like to depart from an alternative city (Hobart or Cairns), please speak with one of our team at the time of booking.
Please note, flights from Adelaide are required to purchase an extra night on the 9th April, as Cathay Pacific only operate a flight from Hong Kong to Australia on Tuesday 10th April. The extra night is not included in the package price below and is required to be added at the time of booking.
Group flights with Cathay Pacific do not allow clients to depart outside the dates advertised in our packages and if you wish to return on a different date, there is a cost of $150pp for a split fee and there also may be a fare difference increase. Once tickets have been issued, any changes incur a minimum $250pp fee plus any applicable fare difference.
Business class and Premium Economy upgrades are available on a request basis. Please contact our office and we will be happy to obtain a quote for you.
Getting to the Hong Kong Stadium is quite easy from our hotels with the MTR (Rail System) running to the Stadium from many locations throughout Kowloon and on Hong Kong Island.
Hotel Locations
Hong Kong is divided in 2 areas - Hong Kong Island (where the stadium is) or the mainland Kowloon. Our hotels are located on Hong Kong Island for easy access to the rugby. They are as follows:
iClub Fortress Hill
- these hotels are located on Hong Kong Island in the district of Fortress Hill. Fortress Hill MTR station is 2 stops from Causeway Bay which is the station closest to Hong Kong Stadium (Island Line).
Novotel Century & Grand Hyatt Wan Chai
- this hotel is located on Hong Kong Island in the district of Wan Chai. Wan Chai MTR station is 1 stop from Causeway Bay which is the station closest to Hong Kong Stadium (Island Line).
Regal Causeway Bay
- this hotel is located on Hong Kong Island in the district of Causeway Bay. This hotel is within walking distance to Hong Kong Stadium.
View our
2018 Hong Kong 7's hotel locations & MTR metro stations here
.
About
The Cathay Pacific/HSBC Hong Kong Sevens tournament commenced in 1976 and this year is celebrating its 40th anniversary with a new date this time in April. From 1982, this event turned into a national representative competition and has grown into the biggest event on the IRB Sevens calendar. Due to the fact it is one of Hong Kong's biggest sporting events, there is a tremendous party atmosphere that surrounds the weekend and fans from all over the world get into the spirit by dressing up
Pack your bags and get ready to travel to one of the hottest events of 2018 for a weekend you wont forget!
'Fly and See' 2018 Rugby 7's packages have been sourced by Cathay Pacific.
Inclusions
All Packages include


Four (4) nights accommodation


Breakfast daily


Three (3) day ticket to the Cathay Pacific/HSBC Hong Kong Sevens 2018


Return economy airfares flying with Cathay Pacific (Sydney, Melbourne, Brisbane and Perth)
Package rates are based on room configurations


Single room is for one person


Twin rooms include two separate beds


Double rooms are for couples and have one bed


---