Paddy's Day in Dublin 2018
Paddy's Day in Dublin 2018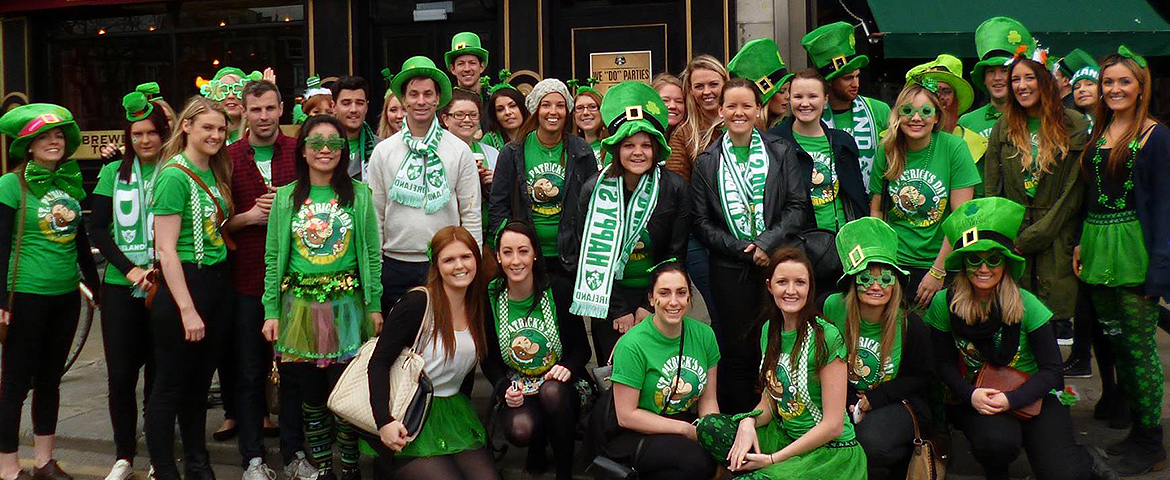 Overview
Early bird special - lock in your place & package price with a deposit payment now!
St. Patrick, Ireland's patron saint, brought Christianity to the pagan Celts almost 1,500 years ago. Whether you're Irish, or just wish that you were, his feast day on 17 March is the time to celebrate, and Dublin is THE place to be!

Paddy's Day
Once again Fanatics will be in Dublin in a huge way for the biggest Paddy's Day celebration on Earth! Our tour reps will lead the way for three awesome nights in Dublin and one almighty big street parade on Paddy's Day itself.

Our accommodation is located in central Dublin, just a few minutes walk into the absolute heart of the action both day and night. As always, our Fanatics tour t-shirt is an absolute cracker and a must have souvenir that you'll proudly be wearing for years to come back home.
Inclusions
Three nights hostel accommodation in central Dublin

St Patrick's Day Parade in Dublin

Guinness brewery tour

World's biggest Paddy's Day celebrations!
Guinness Brewery Tour
We follow up the massive St Patrick's Day celebrations with a visit to Dublin's iconic Guinness Storehouse. Over the Paddy's Day weekend the brewery runs special cultural events so in addition to learning about Ireland's most famous export there is live music and dancing to keep you entertained as you get stuck into your included pint or sampling tray!
Dublin
Our Hostels
We stay at the popular Jacobs Inn and Abraham hostels, both of which are superbly located in the heart of Dublin's tourist district, just a few minutes' walk from Dublin's best bars and all the Paddy's Day action. The hostels have easy transport links to the airport and are nearby Dublin's bus and train stations.

Getting to Dublin
The most convenient way of getting to Dublin is to fly into Dublin International Airport.

Visit www.aerlingus.com, www.ryanair.com, www.airfrance.com or www.britishairways.com

From the airport terminal the airport bus takes you straight to central Dublin and an easy short walk to our accommodation.
Itinerary
Friday 16 March - Arrival in Dublin
Welcome to Dublin! This afternoon make your way to our hostel - address details will be emailed to you. Check in is available from 3pm and baggage storage is available at the hostel if you're arriving early.

Tonight is our opening night party where we'll be checking out some of Dublin's legendary pubs in the Temple Bar district!

Saturday 17 March - St Patrick's Day!
This morning we stroll into town together early to get a good position for the parade & festivities before settling into our favorite Dublin pub for a true Paddy-style celebration.

Today is the day for dressing up so grab anything green, do something crazy with your hair and you'll blend right in for what is assured to be a highlight of your European adventures! Today is Ireland's day and there is absolutely no better way to celebrate it than being in the national capital with plenty of Guinness!

Needless to say, the festivities continue long into the night as all of Dublin comes out in mass celebration. We'll have the pick of Dublin's pubs lined up for our night-time party where we can celebrate with the locals!

Sunday 18 March - Guinness Brewery Tour
Today we head out for our fully-included Guinness brewery tour. In addition to a history of Guinness brewing and advertising here's your chance to sample the local brew - free pint of Guinness in hand - while we take in the best view of Dublin on offer!

Dublin is one of the genuine party towns of Europe and really has to be experienced to be believed. A range of nightlife from the local traditional micro-brewery pubs to funky modern bars, along with the friendliness of the locals makes going out in Dublin a truly awesome experience!

Monday 19 March - Dublin Departure
This morning we farewell our new mates, check out of the hostel and head home or continue your travels around Ireland.
---