Presidents Cup 2019 - Fanatics Supporter Group
Presidents Cup 2019 - Fanatics Supporter Group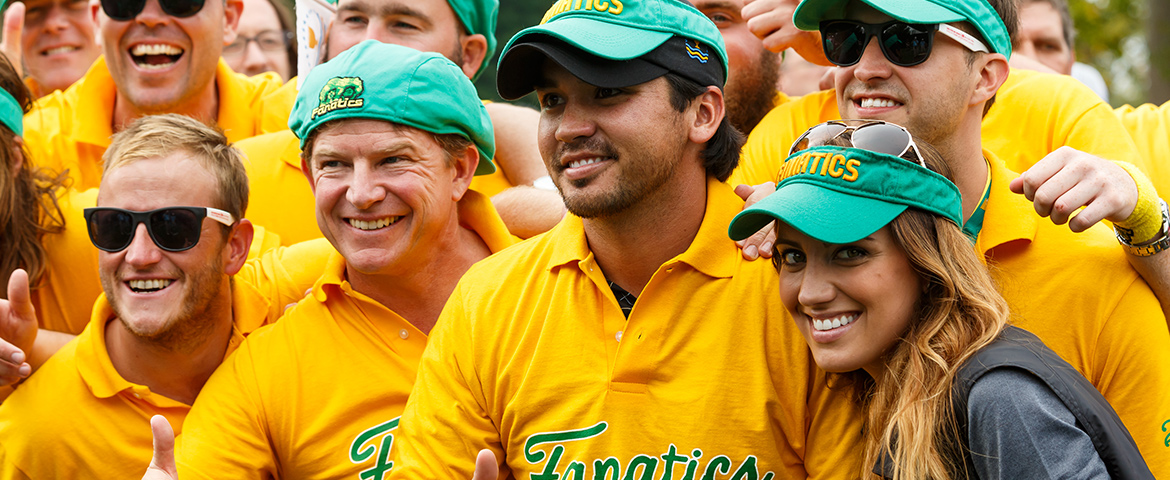 Overview
Fanatics will be out in force in support of the International Team as the Presidents Cup returns to Royal Melbourne in December 2019.

Event: Presidents Cup 2019
Venue: Royal Melborune Golf Club - Victoria, Australia
Competition Dates: 12-15 December, 2019

With Team USA battered & bruised following their Ryder Cup capitulation in Paris, the scene is set for the Internationals to finally turn the tables and claim the coveted Presidents Cup.


Let's Get Loud Melbourne
Nothing beats getting up close & personal with the best golfers in the world and getting behind your team.

If you're a Fanatics member and a passionate golf fan who's keen to support the Internationals at Royal Melbourne and help them finally take down the Americans, please get in touch.


A Big Thanks
We are extremely grateful to Greg Norman, Nick Price and the PGA Tour for their support since 2011 and we can't wait to team up with The Big Easy in 2019!
Fanatics at the Presidents Cup
What It Takes
To get a feel for what the Presidents Cup is all about, take a read of some of these light hearted articles:
www.golfdigest.com/story/who-are-the-fanatics-and-why-do-they-care-so-much-about-the-presidents-cup
www.pgatour.com/news/2015/10/13/the-fanatics-presidents-cup
Since 2011
Under the leadership of the Great White Shark, Greg Norman, Fanatics spent four incredible days in support of the International Team at Royal Melbourne in 2011 in what was the biggest golfing event ever seen in Australia. And that is how our story at the Presidents Cup began.
In 2013 the Shark handed over the captain's baton to legendary two-time major winner Nick Price and we proudly accepted his invitation to get behind the Internationals in 2013, 2015 and 2017.
In 2019 the Big Easy, Ernie Els, will be at the helm determined to ensure the International add to the US Team's misery following their recent Ryder Cup loss to Europe.
Just like the Ryder Cup, crowds at the Presidents Cup are as parochial & boisterous as any sport in the world... it's golf like you've never seen or heard it before! The pressure cooker of playing for a team with 50,000 fans yelling & screaming within just a few yards of the tee & green makes playing in these events one of the highest honours in the game.
Presidents Cup is extremely different to our tours to the US Masters, but there's no other atmosphere like it!
Fanatics & the PGA Tour
Fanatics enjoys a strong relationship with the PGA Tour plus many of the world's best golfers and former greats. We have been the officially endorsed supporter group for the International Team since 2011 and have grown to become a key feature of the bi-annual event.
2011 - Royal Melbourne GC, Victoria - Australia (Captain - Greg Norman)
2013 - Muirfield Village GC, Dublin OH - USA (Captain - Nick Price)
2015 - Jack Nicklaus GC, Incheon City - Korea (Captain - Nick Price)
2017 - Liberty National GC, New Jersery - USA (Captain - Nick Price)
2019 - Royal Melbourne GC, Victoria - Australia (Captain - Ernie Els)
Teams & Format
The Teams
Twelve players make up each team at The Presidents Cup.
The top 8 players for International Team are determined by OWGR points earned during the one year period from 27th August 2018 to 25th August 2019 (ending with the PGA Tour Championship).
The top 8 players for US Team are determined by Fedex Cup points earned during the two year period from September 2017 to 25th August 2019 (ending with the PGA Tour Championship).
Each team also includes 4 Captain's Picks announced at the end of the 2019 season.
To keep up to date with the current rankings visit: https://www.presidentscup.com/standings.html
Aussies in Action
The International Team is likely to include at least four Australian players:
Jason Day
Marc Leishman
Cameron Smith
Adam Scott
And with young guns such as Cameron Davis, Lucas Herbert and Curtis Luck charging up the OWGR rankings, don't be surprised if that list grows!
Competition Format
The Presidents Cup is a teams event played over four days with every player in action every day:
Day 1 - 4 X Foursome Matches
Day 2 - 4 X Four-ball Matches
Day 3 - 4 X Four-ball Matches + 4 X Foursome Matches
Day 4 - 12 X Singles Matches
For more info visit the official Presidents Cup website: www.presidentscup.com
Register your interest in this tour
The following questions have been uploaded to assist us with planning which packages our customers prefer. Please note that this is not binding & only an indication of what you would be interested in.
To register your interest for this tour & upload your preferences you must be registered as a member of this website.If you are a member & not logged in yet, click here to
Login
.
Login
Register as a member
---