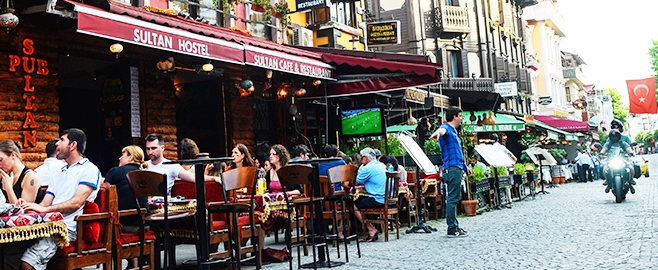 ARRIVAL AIRPORT TRANSFERS
An arrival transfer from Istanbul's airports is available for people arriving on the first day of the tour (or before if you booked extra nights of accommodation with us). Note that special arrangements exist for people arriving for our 3 Day tour on 24 April.
Upon arrival at the airport in Istanbul go through customs and into the arrivals hall and look for our Fanatics transfer representative who will be holding a Fanatics sign. Our transfer staff will gather people together in the arrivals hall before leading you to our transfer coaches. Please note that these are group transfers (not taxi transfers) therefore there may be some waiting in the arrivals hall as other passengers land and come through passport control.
If you are yet to send us you arrival flight details (airline, flight number, airport and arrival time) please send these to us at
london@thefanatics.com
NEW ISTANBUL AIRPORT
Please note that it has recently been announced that flights scheduled to arrive/depart into Istanbul Atatürk (IST) Airport will from 6 April be operating from NEW Istanbul Airport. The new airport is 50km from central Istanbul so previously advertised travel times may need to be updated.
ISTANBUL HOSTEL & 3 DAY TOUR MEETING POINT
Those of you making your own way to our tour accommodation (and the meeting point for our 3 Day Tour on 24 April) should head to the Sultan Hostel in Sultanahmet's tourist area:
Sultan Hostel & Guesthouse
Akbiyik Caddesi 17
Cankurtaran, Sultanahmet
Istanbul
Tel: +90 212 516 9260
The hostel reception is through the main doors and past the bar.
Details of our meeting point and departure times will be posted on our tour notice board in the hostel lobby.
ISTANBUL 3* HOTEL
Details for our 3* hotel option are:
Sumengen Hotel
Amiral Tafdil Sok No.9
Sultanahmet 34122 Istanbul
Tel: +90 212 517 6869
Historia Hotel
Amiral Tafdil Sok No.11
Sultanahmet 34440 Istanbul
Tel: +90 212 517 7472
Passengers at our 3* hotels will be emailed with details on which hotel they will be staying at.

Please see the maps below the menu on the right/bottom of this page.