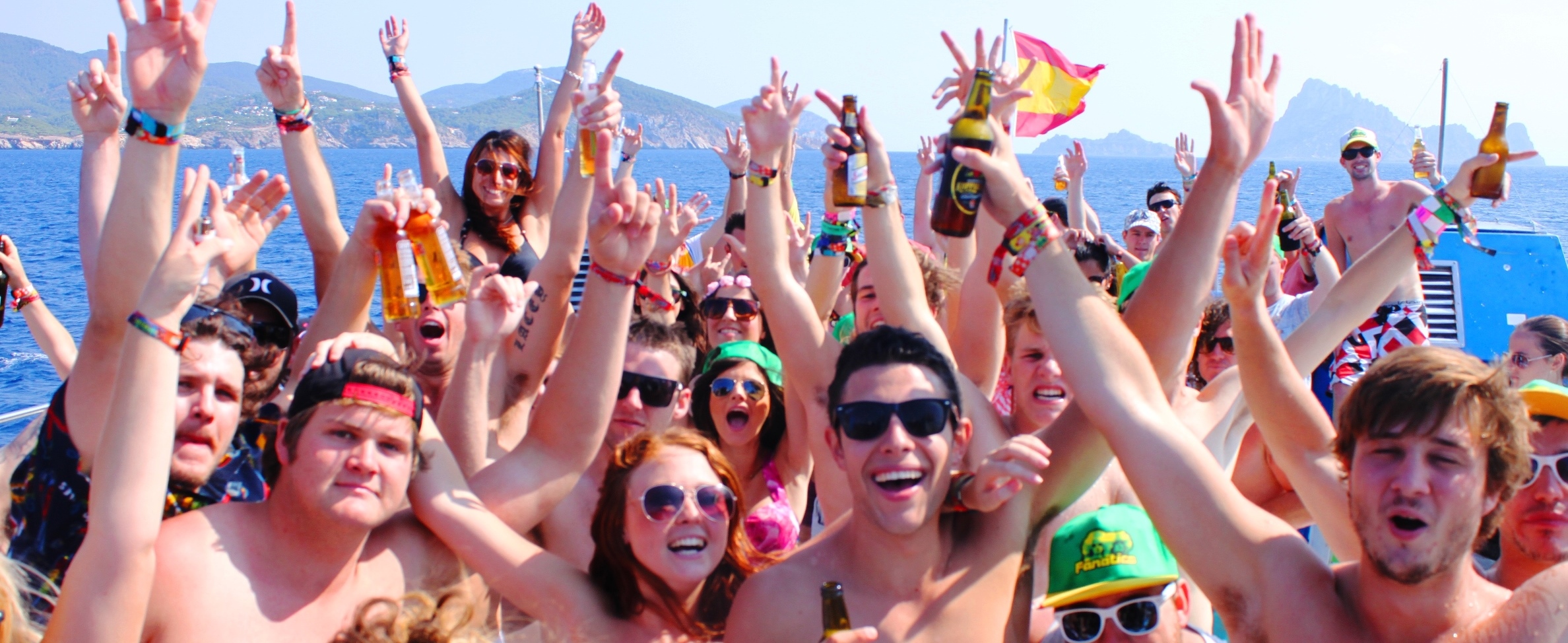 INTRODUCTION TO IBIZA
Over the last decade or so Ibiza has transformed itself from the beach holiday destination of choice for Spain's elite to the summertime dance music party capital of Europe!
Whether you're looking for Ibiza's incredible nightlife & club scene, its idyllic sandy beaches, chilled café beats, spectacular sunsets, crazy beach dance parties... or combination of them all, Ibiza has something for you!
THE CLUBS
Ibiza is home to seven major clubs and a host of smaller clubs and bars:
Amnesia - located in the middle of the island
Eden - located on the waterfront in the heart of San Antonio
El Divino - located in the Ibiza Marina
Es Paradis - located on the waterfront in San Antonio
Pacha - located near the Ibiza Marina
Privilege - located in the middle of the island and the biggest club in the world!
Ushuaïa Beach Club - located near the party beach of Playa d'en Bossa
A typical evening involves watching the sunset at Café del Mar by the water, grabbing something to eat and then moving on to one of the many pre-club bars offering nightly drink specials. From there you move on to the clubs for a big night with your favourite DJs.
FANATICS @ IBIZA
We've been heading to Ibiza for a recovery session after Pamplona and La Tomatina for years now, but inevitably the infectious party atmosphere of the island means it's more party and less recovery - just as well there are plenty of incredible beaches to chill out on during the day!
WHY DO IBIZA WITH FANATICS?
Accommodation
We stay right in the thick of the Ibiza action in San Antonio just a stone's throw from restaurants, bars and the super-clubs of Eden and Es Paradis. Our hotel has swimming pool access and the beach just down the road!
Services
Our experienced crew will be on hand for the duration of your stay to make sure everything is taken care of for you. They'll have advice for you on the best beaches and clubs to check out as well as how to get around the island and will also be leading the group for beach day trips, sunset drinks and pre-clubbing bar crawls!
Transport to the island is taken care of for you so once you arrive you can grab your key, dump the bags and hit the nightlife!
Party!
Ibiza is of course most famous for its dance clubs and each night we'll be hitting the pick of the clubs to head to en mass. For these nights we'll have access to discounted tickets and priority entry. You're also free to check out some of the other clubs if your DJ of preference is elsewhere on a particular night. Before heading out to the clubs we'll also have some pre-clubbing bars lined up with drink specials!
Local Beaches
Before the arrival of the super clubs the island was a popular summertime destination home to some of the Mediterranean's best beaches. The pick of the beaches are accessible by boat from in front of our hotel and each day we'll be heading to the best of them including the ever popular afternoon beach party on Borra Borra beach!
BEFORE YOU GO
Fanatics Facebook Group
Sign up to the Fanatics Pamplona or La Tomatina Events on Facebook to keep up to date with tour details before departure, ask us any questions or chat amongst the other guys & girls coming along on tour!
Pre-departure Information
Three weeks before the tours we will update our website with details on getting to your accommodation, what to bring and any last-minute tips to make sure you get the most out of Spain. An email with links will be sent to each booking person, otherwise check out our website at that time for details!
BEYOND IBIZA
Our Ibiza weekends are timed to coincide with the best Spanish festivals so if you'd like to combine your stay with the Running of the Bulls in Pamplona or Valencia's La Tomatina then jump on one of our Combo Tours. You can even start your trip in Barcelona, San Sebastian or Croatia!
GETTING AWAY
Ibiza is accessible by direct flight from London with easyJet, Ryan Air, British Airways and Iberian Airlines. Iberia has flights to Ibiza from many Spanish cities. Ibiza is also connected to Valencia, Denia and Barcelona by ferry.