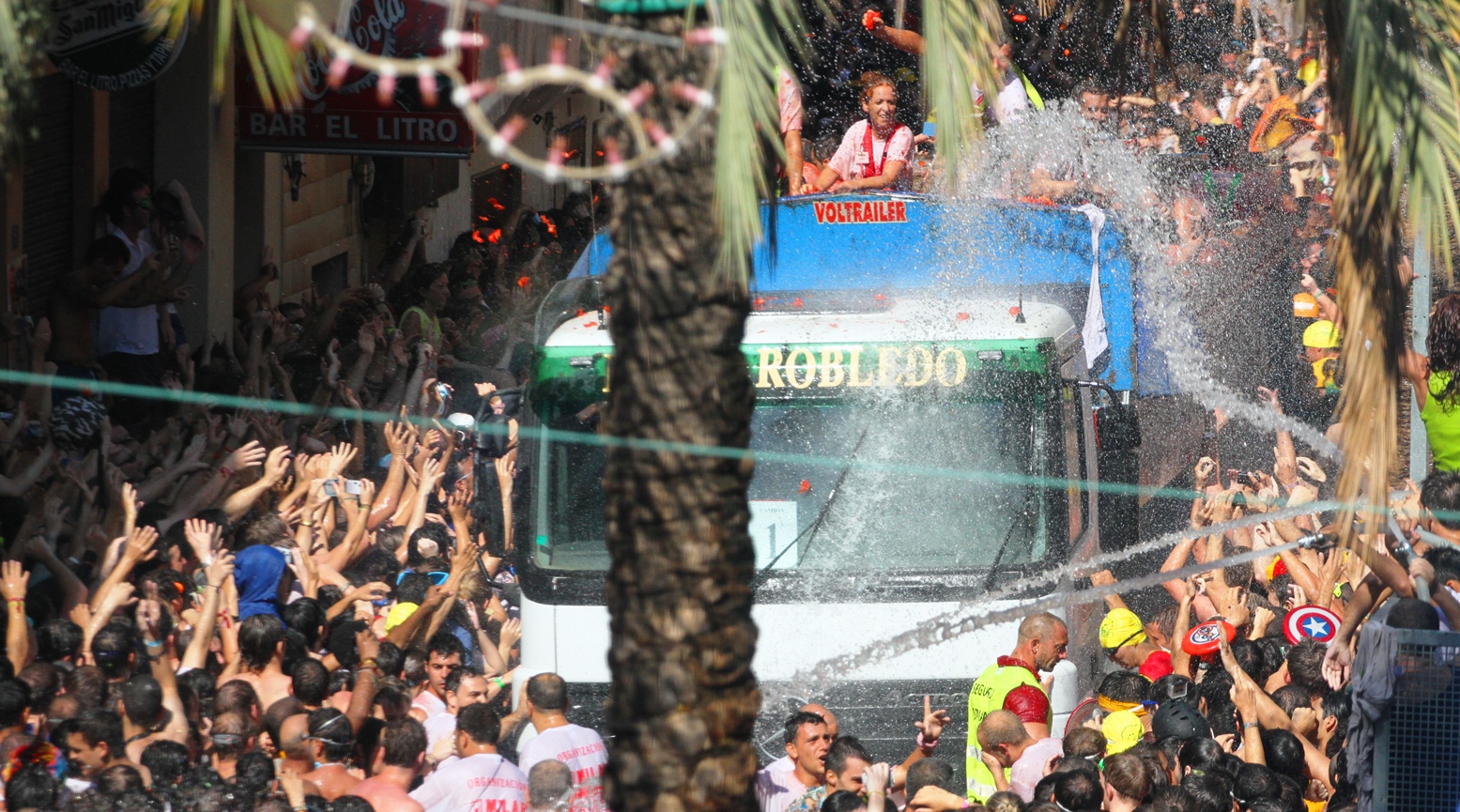 When and where is the tomato fight?
The tomato fight is held in the village of Buñol located in the hills 40km north of Valencia in Spain. In the morning of the last Wednesday of August the town is inundated with adventurers from all over Spain and the world and at 11am the trucks full of tomatoes roll into town for an hour of mayhem!
What kinds of accommodation are available during La Tomatina?
During La Tomatina we have a choice of city centre hostel and luxury hotel accommodation options each of which are extremely popular. Each option is available for two or three nights.
Where are the Valencia hostel and hostel?
Our hostel is located in the heart of Valencia's old town centre just a short walk from Valencia's nightlife, tourist attractions and main station. Our luxury hotel is on the edge of the old town centre and a short metro ride from Valencia's main beach and the America's Cup port & Formula 1 complex.
Can I share accommodation with my mates?
Of course! If you'd like to share a hostel or hotel room with your friends just email us at
tours@thefanatics.com
with everyone's names and we'll link your bookings to get you together on the tour.
Can I book extra nights?
If you would like extra nights at our hostels or hotel email us at
tours@thefanatics.com
What do I need to bring with me?
We'd advise you to only bring along what you're going to need while at the festival. Here's a quick rundown of what you'll need:
Clothes:
Needless to say, the festival gets messy so you should dress accordingly

Strong, fully enclosed shoes to wear at the tomato throwing e.g. trainers (no thongs, sandals or loose fitting footwear)

Goggles optional

Boardies/bikini
Essentials:
Passport (a visa is not required for Aussies & Kiwis)

Travel insurance documents - contact us if you'd like information on purchasing travel insurance

Any essential personal medication

Some Euros in cash

Towel

Sunscreen & hat
What should I take with me to the tomato throwing?
At the festival you'll really only need enough Euros in cash to buy some drinks and lunch after the tomato throwing. You should bring a towel and dry change of clothes with you which you can leave on the coach and change into before we depart Buñol. You will be able to leave valuables on board our coaches which will be locked while we are at the festival.
Is there anything I need to know before I come to maximise the trip?
All tour information is on our website and will be on our tour notice boards during the festival. In the meantime our Facebook event page is the perfect place to link up with other people coming along on tour or ask our crew any questions you have about the festival.
If booking for more than one person what is the best way to pay?
Getting a group along to La Tomatina? You can either make your booking together on one invoice by paying the deposit payment on one card and then making balance payments on as many different cards as you like, or you can simply make individual bookings and then email us at
tours@thefanatics.com
and we will link your booking invoices together.
When is final payment due?
Final payments are due six weeks before the tour. When making your booking you can either pay the full balance or deposit amount. Bookings made within six weeks of the tour require full payment when booking.
How can I make my final payment?
Payments can be made online or by calling one of our offices. To pay online simply sign in at the top of this page and then go to 'My Invoices' and 'Pay'. Part payments can be made using multiple cards.
Contact us
to pay over the phone.
How do I get to Valencia?
There are plenty of easy options for getting to Valencia:
Flights:
From London try British Airways, EasyJet or Ryan Air. From Italy (Rome or Milan) fly Ryan Air, Alitalia or Vueling. From Croatia (Split) fly direct with Vueling, or with a stopover/change in Italy.
Train & Coach:
Valencia is also accessible from other Spanish cities by train and coach. See
Trainline
,
Renfe
or
Movelia
for details.
How do I get to my accommodation?
From the airport there is a direct Metro train service that travels into Valencia's main station in the heart of the city from where there are local bus and metro options to our hostel and hotel.
We will have detailed arrival information for all locations available on our website in the weeks leading up to the festival.