Oktoberfest 2023 - Oktoberfest Lederhosen
Oktoberfest 2023 - Oktoberfest Lederhosen
Oktoberfest stretches back over 200 years and even today at the festival the locals wear their traditional Bavarian outfits. Now here's your chance to fit right in during this year's Oktoberfest with your very own Bavarian outfit!
Included Tour Merchandise
All Fanatics Oktoberfest packages include a traditional long sleeve Bavarian check shirt for men & Oktoberfest Bavarian 'dirndl' dress for women.
Oktoberfest Lederhosen
The 'lederhosen' is the traditional shorts-and-suspenders worn by Bavarian men. Our excellent value real leather pants are great value compared to spending over €150 for similar quality in Munich. See picture's above for the actual make and design we used last year which was very popular.
Note: optional merchandise is only available to be purchased by people booked on a Fanatics Oktoberfest tour or accommodation packages.
Packages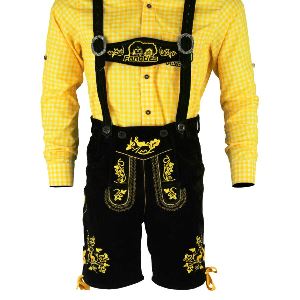 ---