Oktoberfest 2019 - Opening Weekend - Camping
Oktoberfest 2019 - Opening Weekend - Camping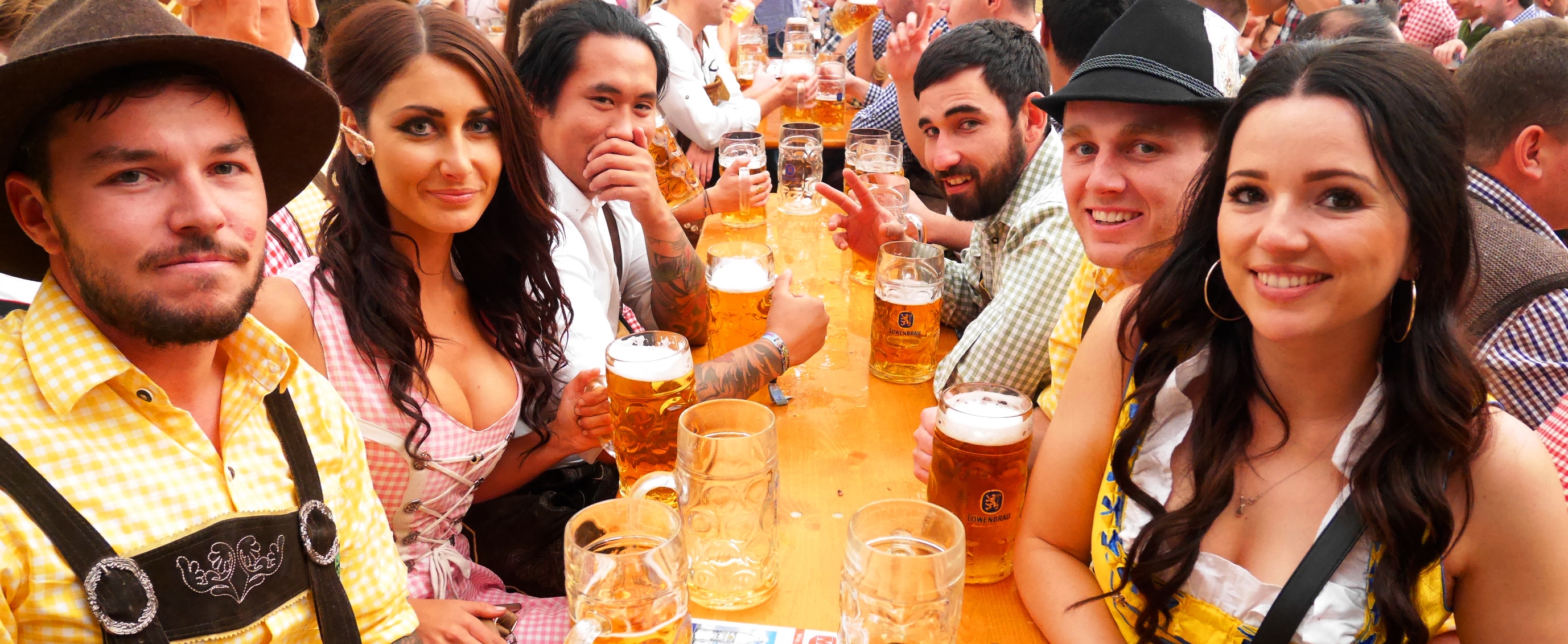 Overview
Early bird special - lock in your place and package price with a deposit payment now!
Whether you're flying in for a weekend or planning to make Oktoberfest a huge stopover on your European adventure, Fanatics accommodation options the best way to get stuck into the Beerfest with loads of like-minded lovers of the amber liquid.
Opening Weekend and All That Follows
Oktoberfest's Opening Weekend sets the scene for 16 days of Beerfest madness and is always the most popular weekend for the many Aussies, Kiwis and other tourists who converge on the city. If you're up for something big, then the opening weekend is definitely that!
The whole festival then continues every day and climaxes on the Closing Weekend with its emotional farewell to Oktoberfest on the first Sunday of October.
Getting to Munich
Fares to Munich during Oktoberfest quickly get expensive so your best bet is to make your booking early. Flights between London and Munich are operated by
EasyJet
,
British Airways
and
Lufthansa
. Lufthansa also connects Munich with many other cities in Europe.
Munich is linked to other European cities by train and coach - see
Trainline
,
Deutsche Bahn
,
Eurolines
or
Flixbus
for details.
Flights into Salzburg, Austria and Memmingen (105km west of Munich) are available with
Ryan Air
. Trains from each into Munich Hauptbahnhof are around €20 one way or around €50 for a group of 3-5 people - see
Deutsche Bahn
. The airport coach from Memmingen to Munich is €20 from
Allgäu Airport Express
.
Any Questions?
Email us at
london@thefanatics.com
if you have any questions about the tour.
Inclusions
Two, three or more nights accommodation in Fanatics pre-erected tents

Stay at the closest campsite to Oktoberfest!

20 minutes door-to-door, public transport tickets included

Funky Fanatics Oktoberfest Bavarian shirt or dress

Party in the Oktoberfest beerhalls with Fanatics each day & night

Breakfast each morning at the campsite
Fanatics Campsite
We stay at the closest campsite to the festival with its own riverside beer garden ensuring this is always a huge party weekend! The campsite is just 20 minutes door-to-door from the festival and transport tickets are included in your package.

Single-share pre-erected tents are included as standard for all campers - no sharing with randoms! Our tents are large enough to sleep three adults so if you want to share a tent with a friend then that's fine too, you can even use a spare tent to keep your backpacks in.

Single Travellers & Groups
Our tours are the ideal way to get stuck into Oktoberfest and everything that goes along with it.

We make it an absolute priority to ensure everyone on our tour is part of the group. So whether you're coming on your own or with a big bunch of friends, you'll instantly be mixing it up with an awesome bunch of fellow travellers all ready to share this experience of a lifetime together.
Itinerary
Friday 20 September - Arrival in Munich
Welcome to Munich! Campsite arrival details will be available on our tour webpage two weeks before the festival. Check-in is available at our campsite from 10am to midnight. If you arrive after midnight please call Fanatics mobile phone number when you arrive & our reception staff will come out to meet you (the number will be posted on the campsite reception window).

Tonight the campsite beer garden will be pumping with hundreds of people getting into the beerfest spirit before tomorrow's big opening day!

Saturday 21 September - Oktoberfest Opening Ceremony
This morning we head off together to the beerhalls bright and early in order to get the best possible position when the doors open. Today features the massive opening ceremony that kicks starts the whole festival, with the mayor tapping the first keg at midday. The atmosphere and anticipation in lead up to the midday opening is like nothing else.

After the beerhalls close, you can kick-on in town and celebrate with the locals, or make your way back to the campsite for a nightcap with your fellow travellers before calling it a night.

Sunday 22 September - Oktoberfest Day 2
Dust off the hangover and get ready to do it all over again. You can head into the Oktoberfest fairground during the day to test your tummy on the rides and amazing food stalls, as well as wander around the stylish streets of the Bavarian capital. Then it's to the beerhalls where we'll be experiencing it all together again in the best Sunday night beerhall of all.

Monday 23 September - Munich Departure
Check-out this morning ready to head back home or continue your travels through Europe - or extra nights can be added when making your booking at Step 2.
---