Pamplona 2019 - Croatia Sailing + Pamplona Combo
Pamplona 2019 - Croatia Sailing + Pamplona Combo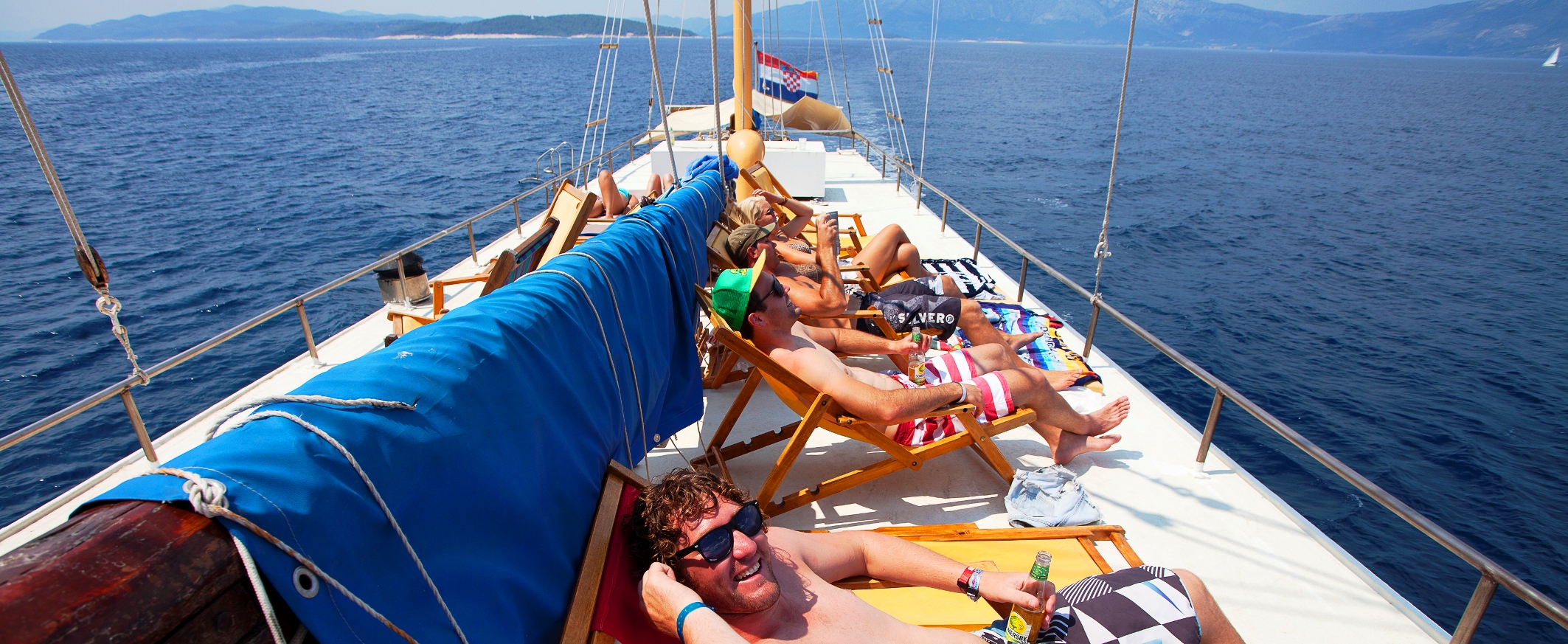 Overview
Early bird special - lock in your place and package price with a deposit payment now!
Spend six glorious nights sailing the Croatian coast before heading to the madness of Pamplona's Running of the Bulls!
Croatia Sailing + Pamplona Combo:
Start:
Saturday 29 June, 12pm departure (Split, Croatia)
Finish:
Sunday 7 or Monday 8 July (Pamplona, Spain)
* If you'd like to link Croatia Sailing with a Pamplona package other than camping accommodation (eg. Pamplona hostel or hotel packages, Ibiza combo, etc), or if you decide to add Croatia Sailing after you've already booked a Fanatics Pamplona tour, email us at
london@thefanatics.com
and we will set up a booking for you.
Pamplona & the Running of the Bulls
Pamplona's San Fermin festival is a week-long fiesta consisting of fireworks, parades, all-night partying and of course, the daily running of the bulls. The opening ceremony (at midday on 6 July) and the first bull run in the morning of 7 July are the focal points of the festival. Renowned the world over, this is one European festival definitely not to be missed!
The Croatia Sailing Experience
Our experienced Fanatics tour leader travels together with our passengers every day & night. Together with the local captains, crew & chefs on board each of our boats, our crew is dedicated to ensuring your Croatia sailing experience is a relaxed, enjoyable and hassle free week and an unbeatable group atmosphere for solo travellers and groups alike.
Another Day in Paradise
The typical day's sailing includes morning departure from the previous night's port of call (you'll probably sleep through it anyhow!), breakfast on board, a picturesque cruise along the coast, a late morning swimming stop - think diving into crystal turquoise water, lazing on a lilo & sharing stories from the night before - a relaxing hour or two reclined on the deck chairs soaking up the rays, lunch on board, followed by docking at the next port of call.
After we've docked it's time to explore the island, visit the beaches, wander the local streets & markets and take in the local culture before returning to the boat to relax, freshen up, enjoy a drink or cocktail together at the on-board bar before we head out for another amazing sunset and night on the town.
It's quite simply one of the most magical experiences you'll enjoy on your European adventures!
No Hidden Charges or Extra Surcharges
Fanatics package price includes all fuel surcharges & port taxes. The only additional cost you need to pay is the local tourist tax €25 cash to be paid on boarding (once only fee).
Breakfast & lunch/dinner is included daily in Croatia. Dinner is enjoyed each night on the islands - the value & range is incredible and no matter what your budget there are options aplenty (eg. a nice pizza or spaghetti will cost around 50-60 Kuna (approx €7), seafood is also incredibly cheap and if you really want to treat yourself to some fine dining you'll easily find fantastic restaurant mains for between €12-€25.
Any Questions?
Email us at
london@thefanatics.com
if you have any questions about the tour.
Inclusions
Six nights on-board cabin accommodation

Sailing the Dalmatian coast's magical beaches, exotic coves & historic villages

Croatia's buzzing bars, nightlife & street parties

All-inclusive camping at the closest campsite to Pamplona

Single share tent upgrade at no extra cost - no sharing with randoms!

Breakfast daily at the campsite - all you can eat!

Free dinner every night at the campsite

Free coach transfers between camp & town - early morning till late night!

Pre-erected tents with sleeping mat & pillow

Dorm bunk upgrades also available

Fanatics Street Fiesta with free sangria

Funky Fanatics running-of-the-bulls souvenir T-shirt

Fanatics San Fermin Pañuelo (neck scarf)

Guided walk of the bulls course with our experienced bull runners

Champagne Opening Ceremony on 6 July

Run with the bulls (or watch safely in the stands!)

Experienced Fanatics Pamplona tour leaders

Optional San Sebastian beach day trips
Camping Luxury
Pamplona All-Inclusive Camping Luxury!
Single-share tents
are included as standard for all campers - no sharing with randoms! Our tents are large enough to sleep three adults so if you want to share a tent with a friend then that's fine too, you can even use a spare tent to keep your backpacks in.
Sleeping mats & pillows
are ready in your tent which is pre-erected ready for when you arrive. Sleeping bags are available at the campsite if you're not travelling with one. We've got everything to make your stay at our campsite as comfortable as possible!
Bunk beds
are available in the campsite's hostel-style dormitory if a tent's not your thing, select during the booking process.
Modern campsite facilities
greet you with loads of clean showers & WCs, an amazing swimming pool, restaurant, bar & mini-market plus nightly entertainment from our live band & resident DJ. Personal lockers are available to store your valuables and we also have a 'chill-n-charge' station for your phone. If driving the campsite has car parking available for €15 per day.
Fanatics Premium Shuttle Service
Our campsite is just 7km/8 mins from the heart of Pamplona - the next closest campsite is more than 30 kms outside of town! Our
premium shuttles
run more often and for longer hours than anyone else's meaning you'll experience more of Pamplona's Running of the Bulls festival with Fanatics. We pride ourselves on providing the most comprehensive & regular shuttle service in & out of the city centre, bar none!
We invest more in our shuttle service than anyone else, meaning you're able to whizz into town and back to camp around the clock at your leisure. While most other people are lined up a hundred deep & wondering if their bus will ever turn up, Fanatics passengers are already in town enjoying the street fiestas & sangria!
All-You-Can-Eat Breakfasts & Free Dinners!
Our all-you-can-eat breakfast is included in all packages and consists of pre-packaged rolls (vegetarian & meat-lovers option available) plus fruit, muffins, yogurt, juice, tea & coffee.
Free dinners
are included every night at our campsite with a set option (including vegetarian option) each evening.
We've arranged some incredible deals at our campsite bar so you can stay hydrated for next to nothing. The bar has a full range of spirits & mixers as well as beer and sangria on sale by the quarter-, half- or three-quarter-litre at bargain prices!
Walking Tours
Escorted walking tours
of Pamplona's running of the bulls course are included. Our expert bull runners will point out where the bulls are running, the best places to view the run - including options for balcony viewing - as well as the party locations we'll be using for our famous street fiestas.
Souvenir bulls t-shirt & scarf
are included in your package to ensure you look the part. Festival white shorts & trousers are available at camp.
Massive Town & Campsite Parties!
Our 7 July street fiesta includes free sangria, while the opening ceremony party is one that has to be seen to be believed! Staying at the closest campsite to town plus our extensive coach shuttle service means you won't miss out on any of the Pamplona party action!
Back at camp with over 1,000 fellow Fanatics, our very own parties complete with live band and DJ, plus the campsite bars loaded up with plenty of sangria & cerveza means the festival atmosphere doesn't stop!
Itinerary
Saturday 29 June - Tour Departure - Split to Makarska
Welcome to Croatia! Check-in with our tour leader in front of Split harbour between 11am & 12:30pm. Details on getting to our meeting point will be emailed to you one month before the tour. If you arrive into Split after 12:30pm you can meet up with the tour at our first stop of Makarska (see the arrival map for details). A compulsory €25pp (or 200 Kuna) tourist tax is payable in cash when boarding (note that fuel surcharges & port taxes are already included & paid in your Fanatics package price).

After lunch we sail south along the Dalmatian coast to the town of Makarska where we spend the afternoon swimming and lazing about on one of the many beautiful beaches on the Croatian Riviera. Makarska is one of the most attractive resorts on the Croatian coast. Those feeling adventurous can join a white water rafting excursion on the Cetina River. We spend the evening in the port of Makarska where you can grab some dinner, stroll along the historic streets and enjoy our opening night party at Makarska's famous cave bar!

Sunday 30 June - Makarska to Mljet
This morning we depart Makarska for Mljet, first stopping on the Peljesac peninsula for a refreshing swim. Today we have an optional bike & bbq tour in Mljet National Park (HRK 350 including park entry, bicycle hire & bbq lunch with drinks). The tour cycles along the salt lakes of Mljet National Park, otherwise you can simply enjoy the sun and sea on this peaceful island. In the middle of the largest lake you can visit the picturesque abbey and church.

Tonight we sail on to our private bay where today's included meal is dinner on board before we party the night away with our fellow passengers!

Monday 1 July - Mljet to Dubrovnik
After breakfast we depart for Dubrovnik - one of the highlights of any Croatian cruise. As always along the way we'll be stopping for a swim in the magical waters of the Adriatic. Upon arrival in Dubrovnik the afternoon is free for you to explore the glorious old town & experience its amazing vistas with the group or you can join an optional guided tour of Dubrovnik. Today's included meal is an evening dinner on board our boat giving you maximum time to explore Dubrovnik during the day, there are plenty of good value lunch options nearby that your tour leader will point out.

In the Middle Ages Dubrovnik was the only city-state to rival Venice and the riches of that era are still in evidence today. Discover the beauty of this Mediterranean gem through its numerous monuments, tiny streets and churches, take a walk through Stradun – the old city's main street, relax in one of the many café-bars or those of you with plenty of energy might want to walk along the 1,940m-long city walls! This is one destination you definitely will never forget.

This afternoon you might want to join an optional activity such as the Game of Thrones tour or a kayaking trip taking in the old city walls from the water. After a full day of sightseeing we head back to the boat for dinner and some on-board cocktails before hitting the nightlife of Dubrovnik's old town centre.

Tuesday 2 July - Dubrovnik to Korcula
This morning we depart Dubrovnik and continue our cruise to the gorgeous island town of Korcula, the birthplace of Marco Polo. Korcula is one of Croatia's most historically significant towns & as well as its architectural splendour it also boasts one of Europe's most stunning sunsets which we'll be enjoying together with cocktails in hand! On this island you can find more legends, tales and monuments to the region's past than anywhere else along the Dalmatian coast.

Wednesday 3 July - Korcula to Hvar
This morning we depart for the Pakleni Islands for lunch and another amazing swimming stop before heading to the island of Hvar. Hvar is the longest island in the Adriatic. Here you can find medieval monuments such as the Renaissance cathedral with its original tower and the oldest community theatre in Europe – founded here in 1612. The city of Hvar offers plenty of entertainment with restaurants, bars and cafes that are open long into the night!

Thursday 4 July - Hvar to Split
Today we return to Split for a final night on the town!

Friday 5 July - Split to Barcelona & Pamplona
This morning we fly to Barcelona and board our coach transfer to Pamplona ready for the start of the San Fermin festival! After checking in at our campsite we take a relaxing stroll around Pamplona's old town on our guided walk of the bulls course. Your tour leader will be able point out where the bulls will be running, the best places to view the run - including options for balcony viewing - as well as the party locations we'll be using during the festival.

Tonight we get into the fiesta spirit at our campsite with hundreds of fellow Fanatics passengers and plenty of sangria! Our live band will be kicking off a massive night at the campsite on the eve of the San Fermin fiesta!

Saturday 6 July - San Fermin Opening Ceremony
Today sees the opening ceremony of the San Fermin festival and the biggest street party you will ever see! This morning people gather in front of the town hall where at midday Pamplona's mayor lights the firework officially starting the festival. If you would prefer to avoid the tight crowds in front of the town hall you can watch the events unfold via the big screens in the main square.

The champagne & sangria then starts flying throughout the old town centre and an afternoon of unbelievable street partying follows. From the town hall and main square the party moves along to the St Cecilia Fountain and up to Mirador del Caballo Blanco (White Horse lookout).

The festivities continue through the afternoon, once you've had your fill you can head back to camp on our coach shuttles from the bus station. Then have a swim in the campsite pool and grab some dinner from the restaurant before our band cranks things up again at tonight's campsite party!

Sunday 7 July - First Bull Run & Big-Heads Parade
This morning our coach shuttles head off bright and early for the short ride into town where we get in position for the 8am bull run. To watch the bull run you have the option of finding a place along the street barricades or heading into the bull ring to watch the bulls and runners enter the stadium and the release of the young bulls into the arena. Anyone interested in renting a place on a balcony along the bull run course should look into that during the orientation walk on 5 July.

After the bull run Pamplona's 'Parade of Giants & Big-Heads' departs the town hall and heads through the streets of the old town centre. Then we return to the campsite for breakfast and check-out, our shuttles are available until 11am to take you into town to continue your onward travel plans.

If you are departing Pamplona straight after the morning bull run, simply take your bags with you on our shuttle coaches into town in the morning and store them at the left luggage service inside Pamplona coach station. Departure transfers to Barcelona and San Sebastian are also available this morning (add to your booking or book separately later).

Our standard tour ends this morning however you can extend you package for an extra night during the booking process to continue your Pamplona experience.

This evening we jump on board our transfers into town ready for the huge nightly fiesta including street parties, a massive fireworks display, and loads of tapas bars pumping out the tunes. Tonight hundreds of Fanatics t-shirts will be lining Calle San Nicolas as we get stuck into the Spanish party in a big way!

Our shuttles back to camp operate till late in the night allowing you to kick on before catching a few hours' sleep.

Monday 8 July - Second Bull Run
This morning's second running of the bulls takes off at 8am and this time you'll be there with a trained eye. It's a great chance to experience the running from a different vantage point and catch the thrills and spills of all the action!

Then we return to the campsite for breakfast and check-out, our shuttles are available until 11am to take you into town to continue your onward travel plans.

If you are departing Pamplona straight after the morning bull run, simply take your bags with you on our shuttle coaches into town in the morning and store them at the left luggage service inside Pamplona coach station. Fanatics departure transfers to Barcelona, Bilbao airport and San Sebastian leave from our campsite after the bull run - these can be added when making your booking or booked separately later.
---