Pamplona 2024 - Ibiza Add-On
Pamplona 2024 - Ibiza Add-On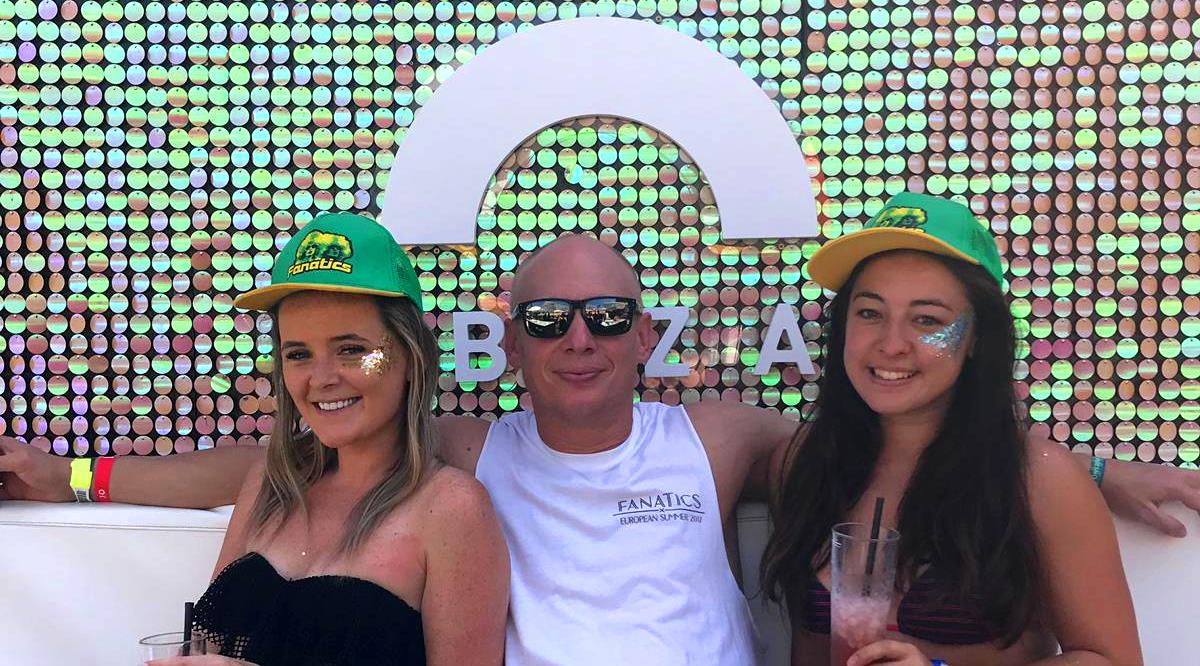 Add three incredible nights in Ibiza to your Pamplona San Fermin package!
For those of you keen to keep that fiesta feeling going why not join us as we hit the famous party island of Ibiza after Pamplona!
After all the craziness of the San Fermin festival we're heading down to Valencia and over on the ferry for three action-packed days and nights in Ibiza. In addition to its world famous summer party scene, Ibiza is seriously one of the most beautiful Mediterranean islands you could hope to find.
This package is only available to people booked on our
Pamplona San Fermin packages
, three-night
city-centre hostel
,
3-star hotel
and
campsite dorm
packages now available!
Ibiza
Long famous amongst the Spanish as an island of unrivalled beauty and choc-full of secluded beaches, the island of Ibiza has since become synonymous with party! for young people from all over Europe and beyond. Our three nights on the island combines the best of both worlds with plenty of time set aside for partying and chilling out on the beach.
Fanatics Parties & Clubbing in Ibiza
Every year we party at the biggest & best clubs in Ibiza including Amnesia, Privilige, Space, Eden & more. We have exclusive access to tickets ensuring everyone on our tour is able to party together with the biggest DJ's on the island - whether it's Dave Guetta, Too Many DJs, Fat Boy Slim, Hedkandi, Paul van Dyk, Pete Tong, Tinie Tempah, Tiesto, Cream, Zoo Project or the many other top class DJs, you'll be partying in style!
Our Ibiza party schedule will be confirmed and emailed to you two weeks prior to the tour (once we know exactly who is playing & on which nights) then tickets will be available to pre-purchase at Fanatics discounted prices during the tour.
If the club scene isn't your thing, or at least not every night, rest assured Ibiza offers much more than just all-night partying and our reps organise group activities each day & evening. Amazing beaches, top quality & value for money restaurants, relaxing cafes, all manner of water sports, and a holiday vibe to suit every taste.
Ibiza Accommodation
The incredible
Ibiza Feeling Hotel
, located right in the middle of San Antonio's West End, is the perfect base from which to get the most out of everything Ibiza has to offer. Superclubs, pre-club bars, beaches and sightseeing cruises are all just a stone's throw away.
Rooms sleep two people (two single beds) and have a private bathroom and air-conditioning. Guests have access to the outdoor pool at the hotel next door with sun terrace, loungers & poolside bar.
Inclusions
Coach & flight transfer from Pamplona to Ibiza


Three nights apartment accommodation on Ibiza


Ibiza parties, clubs, discounted club tickets & beach fun!
Itinerary
Monday 8 July - Pamplona to Ibiza
Following this morning's bull run we board our transfer coaches ready to make our way to the party island of Ibiza! Our coach/flight transfer option will arrive into Ibiza at around 9pm (coach to Bilbao airport & 1-hour flight to Ibiza).

After checking in at our Ibiza accommodation we head out to experience Ibiza's legendary nightlife. Tonight's party venue & DJs will be announced approx two weeks prior to the tour when Ibiza's club schedule is finalised - discounted club tickets will be available for all Fanatics passengers to purchase during the tour.

Tuesday 9 July - Ibiza Beaches & Party!
Today you have the option of relaxing at the beach near our hotel or going further afield and checking out the incredible array of beaches this island has to offer. This is the perfect day for you to venture out to some of Ibiza's out-of-the-way gems that most people who visit don't make it to. Then it's back to the apartments to freshen up before we hit the famous Ibiza nightclub scene for a massive Saturday night!

Wednesday 10 July - Ibiza Partying
There are plenty of activity options today - just ask the Fanatics crew for some ideas including diving, boat cruises and loads more. We'll see the rest of you on the beach. Tonight you've got the option of another nightclub session or spending a more chilled-out evening at some of the island's restaurants and local bars.

Thursday 11 July - Depart Ibiza
This morning we check out of our hotel. There are a number of departure options depending on your plans after Ibiza including taking the ferry back to the mainland or flying directly out of Ibiza.
---