Pamplona Campsite Directions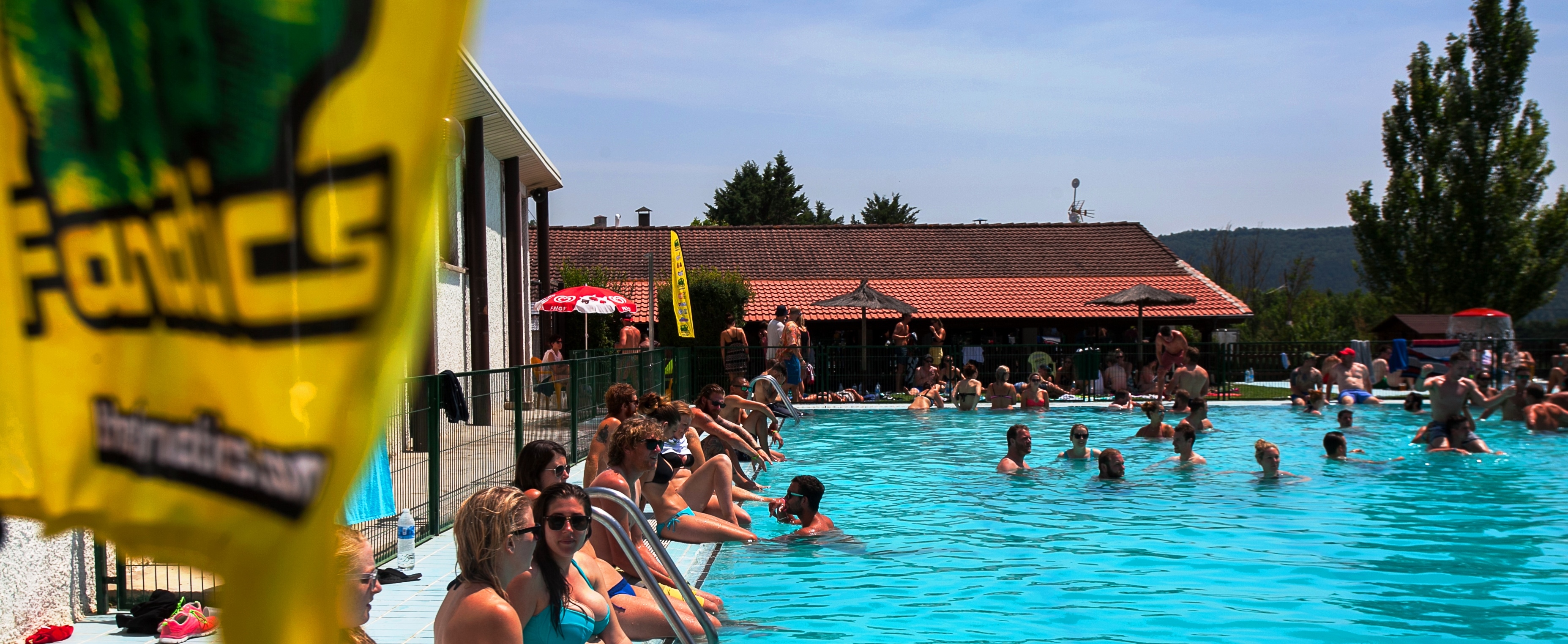 Fanatics Pamplona Campsite Address
Camping Ezcaba
Ctra de Berriosuso (road NA-4210)
Eusa, Ezcaba (Ezcabarte)
Navarra 31194
7km from Pamplona city centre taking Carr. Nacional N-121A in direction Irún–Francia, then left at NA-4210 just past Ezcabarte & Oricáin.
Campsite Arrival Transfers on 5 July
For passengers making their own way to Pamplona, we operate private arrival transfers from Pamplona Coach Station to Fanatics Pamplona Campsite on the afternoon of 5 July (€5 cash on the day, pre-booking not required).
Transfers depart hourly from 2pm to 6pm, Pamplona coach station is located in the centre of the city on Yanguas y Miranda street, on the corner of Plaza de La Paz (see the document below the pictures on this page for a map of the coach station).
Meet our Fanatics crew member (in yellow Fanatics shirt) in the seating/waiting area of Pamplona's underground coach station 15 minutes prior to departure.
If you arrive after 6pm will need to take a taxi to the campsite (approximately €20-25).
Please Note
Fanatics campsite transfers are only available to passengers booked on a Fanatics Pamplona Campsite package.

If you are travelling to Pamplona on board one of our transfers from Barcelona, Bilbao or Madrid you will be taken directly to Fanatics campsite.
From Pamplona Train Station
Pamplona train station is located 2.5km from Pamplona's city centre. There is a limited local bus service to Pamplona coach station, however, from our experience the service is not entirely reliable. Your best option is a taxi to Pamplona coach station (approximately €10) to meet Fanatics campsite arrival transfers on 5 July. A taxi direct from the train station to the campsite costs approximately €25 one-way.
From Pamplona Airport
Flights into Pamplona Airport from the UK are usually not direct services and are generally more expensive than flights to Barcelona, Bilbao or Madrid. If you are flying from elsewhere in Europe you may be able to find a reasonably priced flight into Pamplona. From Pamplona airport you will need to take a taxi to the campsite which will cost around €30-40.
Local Bus Options
Take bus 4-Oricáin (approximately every 2 hours, be sure it is marked as going to Oricáin) from the bus stop at the roundabout on Avenida de Baja Navarra (just around the corner from Pamplona Bus Station) to Oricáin from where the campsite is about a 10 minute walk along the river path (signposted).
Driving to Pamplona
The campsite operates a car park for approximately €15/day, fee is payable in cash to the campsite's main reception. The campsite does not facilitate campervans within the camping area.
Check-in at the Campsite
When you arrive you will see the Fanatics check-in desk just after the main reception area. Here you will receive your tent number plus campsite wristbands. Every passenger will need to bring along their passport for identification purposes - Fanatics are required by Spanish law to record all passengers' passport details.
If you are travelling to Ibiza with Fanatics after Pamplona, please bring a photocopy of your passport to assist with check-in at our Ibiza accommodation.
Note:
We do not operate check-ins on 6 July. If you are delayed and end up arriving on the 6th please report to the campsite's main reception area where you will need to wait until our crew return from the opening ceremony.
Merchandise Pick-Up
Your included Fanatics t-shirt and panuelo (neck scarf) will be available to collect from our Merchandise Tent at the campsite after you have checked in.
The spirit & tradition of San Fermin Festival is to always wear white in town each day & night from 6-14 July inclusive, please ensure you respect the tradition.
San Sebastian Day Trip 7 July
Passengers on our Opening Ceremony packages have the opportunity to join our San Sebastian day trip to on 7 July.
Places are limited so the best bet is to
book now online
.
Arriving on 7-13 July
People on our Middle Weekend and Closing Ceremony packages should jump in a taxi from either the train or bus stations (approximately €20-25).
If you are at the coach station at 9am or midnight we operate shuttles back to the campsite from
area number 7
in Pamplona Coach Station directly to our Pamplona campsite - look out for the Fanatics crew in green shirts.
A Pamplona coach station map can be found in the document below the pictures on this page showing the exact location of area number 7 in Pamplona's coach station (the extended coach parking area).