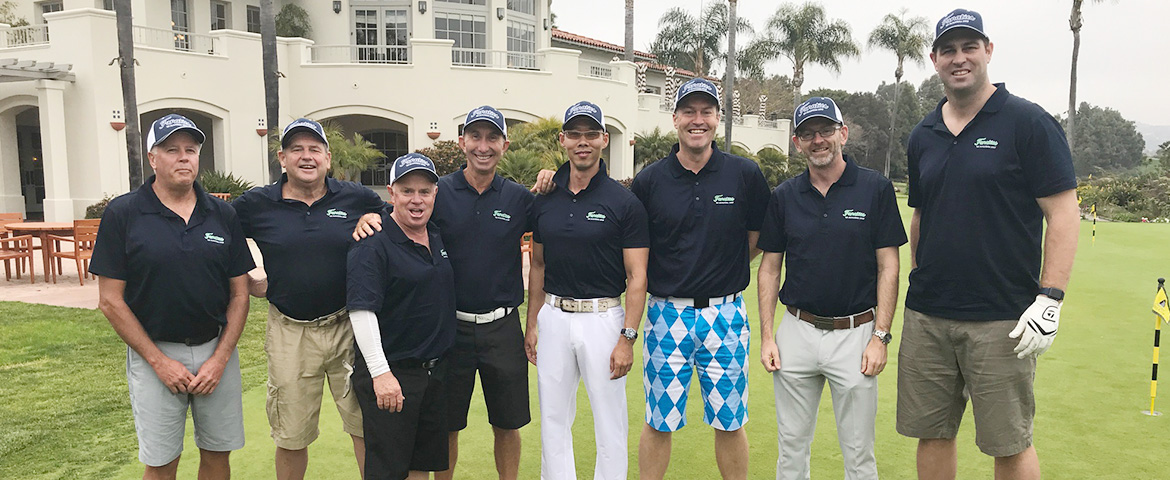 We enjoy a strong relationship with the US PGA Tour together with many of the game's greatest players both past & present. Our extensive background in the sports travel industry ensures we have access to the tournament's most reputable ticket & badge suppliers at highly competitive rates, meaning we can pass on those savings to you and provide much more bang for your hard earned buck.


Fanatics Souvenir Merchandise
All of our US Masters customers receive our fantastic souvenir merchandise including commemorative golf polo shirt & golf cap plus a set of personalised Fanatics Titleist golf balls complete with you own name on each ball.

Fanatics is famous for producing some of the best merchandise in the sports travel industry and our US Masters apparel is no exception. Our customers proudly sport their new kit when teeing up at their home club after the tour, much to the envy of their fellow club members.


Your Days at the Masters with Fanatics
A common theme among all our US Masters customers is their enjoyment of mixing together with fellow golf 'Fanatics' from Australia and around the world. We are also acutely aware that most people are keen to see as much golf and take in as much of the Augusta National atmosphere as possible, so our schedule coupled with our dedicated tour reps ensures you will enjoy every moment of your cherished Masters experience.

Each morning we walk together from our hotel to Augusta National and arrive early to ensure you are able to soak up everything the Masters has to offer - from the practice range to the day's first drive right through to the final putt on 18, you won't miss a minute of the action. Your experienced Fanatics Masters reps will be on hand to provide all the best tips on getting around Augusta National before you head into the course. You are most welcome to watch the golf with your fellow Fanatics or do your own thing - the choice is yours.

Being a golf major, the dress standards for all patrons at Augusta National requires the wearing of normal golfing or smart casual attire - collared shirt, tailored shorts or slacks, walking shoes or golf shoes. Chances are you'll end up grabbing at least one or two items from the official merchandise store inside the course. And don't worry, you won't be required to kit up in our usual Presidents Cup style outfits at the Masters.

Upon returning to the hotel after the golf each day you will definitely enjoy sharing stories from your day with your fellow Fanatics complete with complimentary drinks (local beers & wine) and snacks before freshening up & heading out to dinner together.


Flights to the USA + Transfers to/from Augusta
Fanatics is a fully registered travel agent & able to cater for all your international flight needs in conjunction with your Masters package.

By far the the cheapest travel option is to fly into Atlanta Airport (230km from Augusta) or Columbia Airport (110km), then take either a transfer or hire a car & self-drive to Augusta. The roads are great and directions very simple using sat-nav.

A shuttle from Atlanta Airport to Augusta will cost around $360 for up to 4 passengers. Local bus services are an even cheaper option.

Flights in & out of Augusta Airport (AGS) are more expensive around Masters time and most require a change at Atlanta or Charlotte, if coming in from LA for example. US Airways and Delta are the two main airlines with regular services into AGS. Upon arrival at AGS it's approx 13 miles/$50 taxi ride to the hotel or Augusta National.

After the Masters, Fanatics operate a group transfer from our Augusta hotel to Atlanta Airport on the Monday morning. Private transfers can also be arranged. Please contact our office for details.


Game of Golf on Friday 6th April
Friday is our dedicated golfing day and the chance to put your own game to the test with 18 holes at one of Augusta's best clubs. In 2017, our passengers enjoyed a sensational round at Forest Hills Golf Club Options, which was US$168 per person and this included green fee, cart hire and local taxes plus complimentary lunch. Reservations are available after you have booked your Fanatics US Masters package.


Which Days Should I Attend Augusta National?
For the majority of golf fans, doing two days at Augusta is the ideal approach and sits within realistic reach of most travelling budgets. Two days enables you to get out & explore the course and develop your bearings on your first full day, then really engross yourself in the tournament & soak up the atmosphere on your second day. Needless to mention, if you have the budget & time to join us for the full tournament then that's unbeatable!

Wednesday is the annual Par 3 Contest and the only day you are permitted to take a camera into Augusta National. It's always a very special day as some of the former greats of the game tee up alongside today's stars, the player's wives & children join in as caddies, and the crowd share an up close & personal afternoon with the best in the business.

Thursday is championship opening day and with anticipation riding high it's always a special atmosphere.

Saturday & Sunday sees the field cut to 60-odd contenders and the stakes raised for those within reach of the top of the leaderboard. Mornings give you the chance to follow your favourties bidding to make their move whilst the afternoons' focus shifts to the final few pairings.

Note that on Friday, primarily for those staying the full six nights in Augusta, you have the option of either: joining our Fanatics Golf Day at Augusta's Forest Hills GC (green fee approx US$168 per player); purchasing a Friday badge for the Masters (call us for a quote); or enjoying a relaxing free day in Augusta.


What is the spectator viewing like at Augusta National?
If there's one thing that everyone comments on when they first attend Augusta National, it's how vast and undulating the terrain is around the course. This helps make Augusta National one of the best viewing courses in world golf and infinitely more spectator friendly than most British Open venues for example. Our experienced US Masters reps are on hand to give you the best possible advice on how to plan your days, as well as share their insight and experience on each & every hole around the course.

Another unique feature of Augusta National is its folding chair policy. Available for just $30, your folding chair may be set up within any one of the many chair-only sections around the course. The chairs are available to purchase every day of the tournament (i.e. they never sell out) and whilst it's not everyone's cup of tea, it's a great option for those who like to sit tee or greenside and watch the field filter through. Your Fanatics tour reps will give you the best advice on where & how to set up your chair, particularly on the 18th.


Non-Masters Attendee Discount
If you are travelling with a partner, friend or family member who does not wish to attend the Masters, only a small fee is payable for them to share your room in Augusta (i.e. you pay the single share package price plus only USD $150 for the extra person in the room per 3 nights). Please contact our office for details.


The Venue
The hallowed grounds of the Augusta National Golf Club provide the perfect backdrop for a tournament that is every bit as colourful as the azaleas that burst into flower to welcome the world every April. Indeed, the course was originally the site of a plant nursery and its heritage is ever present courtesy not only of its perfectly manicured fairways and gardens but also in the names of each of its magnificent 18 holes including Magnolia (5th), Camellia (10th) and Redbud (16th) to name just a few.

The tournament itself serves as testimony to both the old school traditions of the game plus that uncanny American ability to put on a spectacle that is larger than life. From the moment you set foot inside Augusta National you'll be mesmerised by its indelible beauty and palpable atmosphere. Starting with the antics of Wednesday's Par 3 Contest to the tension of the opening holes on Thursday and all the drama down the stretch on Sunday, the Masters unquestionably lives up to its fairytale-like reputation.

From a spectator perspective, the accommodating nature of the course's rolling terrain makes for incredible viewing on the vast majority of holes and ensures you get much more than just a fleeting glimpse of the game's best in action. It truly is an amphitheatre of dreams. The icing on the cake is the immaculate standard of services & conveniences around the course which are refreshingly devoid of the usual temporary feel that you'd normally associate with a golf tournament. And yet, surprisingly, food & beverage "concessions" serve up an array of fare at prices that will invariably make you blink twice...think beer $3, sandwiches $3, coffee $1, water $1.50. If it's not heaven, you can certainly see it from Augusta National!

If you're keen to experience the Masters book your place now then start preparing for your golfing trip of a lifetime.